What does it mean to be "Made in America?" That's the question posed to entrepreneurs in a new web series by GoDaddy featuring Communities Unlimited.
The "Made in America" series debuted on Friday, Nov. 22, 2019, in a special showing at the Halloran Center for Performing Arts & Education, located just off the famous Beale Street in downtown Memphis, Tennessee. Entrepreneurs featured in the series, as well as employees of Communities Unlimited, attended the special premiere. Edward Haddock, Arkansas Director of the U.S. Small Business Association, also attended the event.
The first four episodes of the series are now available on YouTube. Three of the entrepreneurs in the series include Arkansas-based Vernon James, owner of KDJ Builders in Conway; Sequoia Ferguson, owner of That's So You! mobile boutique based in Hot Springs; and Consuelo Rosales, owner of Consuelo's Cleaning Services in Jonesboro.
Watch as these and other entrepreneurs, with the support of Communities Unlimited, move forward in the efforts to achieve the American dream of owning their own business.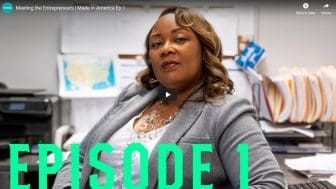 In the first episode, viewers meet Vernon, Sequoia, Consuelo and several other entrepreneurs who have received assistance from Communities Unlimited in the quest to build their own businesses, from receiving micro loans to taking business management courses designed to guide them toward a better business plan. Cynthia Terry, director of Entrepreneurship with Communities Unlimited, discusses the many ways Communities Unlimited supports budding entrepreneurs, and why such work is so important in today's economy and culture.
The second and third episodes of the "Made in America" series focus on Sequoia and Consuelo, both clients of Communities Unlimited. Sequoia has spent eight years running her own brick-and-mortar boutique, That's So You! But with a micro loan from Communities Unlimited, she has shut the physical doors and opened up a mobile one. With the purchase of a commercial truck, Sequoia has taken her business mobile by not only offering her goods online but also by taking her merchandise directly to her clients.
Consuelo was looking for a way out of a situation of domestic violence, but she needed a way to support herself and her children. She decided to start her own cleaning business. With financial assistance from Communities Unlimited, she did just that. She needed a way to build her client base, so with the help of Communities Unlimited and GoDaddy, she started a website to draw in clients. Less than a year later, she has 15 clients and counting, and she and her children now enjoy a safe home environment.
In the season finale, host Scott Shigeoka returns to see where Sequoia and Consuelo stand in their businesses today.
In addition to Vernon, Sequoia and Consuelo from Arkansas, several Tennessee-based entrepreneurs have received support from Communities Unlimited. Other Tennessee entrepreneurs featured in the series include:
Angela Brown, owner of D'Serv Professional Hair Care, which creates products to help those losing their hair due to illness or cancer treatment, among others;
Pam Hill, owner of Makeda's Homemade Butter Cookies, who has recently opened a second location and is looking to expand further;
Shalene Weddle, owner of My Heavenly Creations, who has turned a hobby of soapmaking into a business featuring a variety of health-conscious and vegan spa products.
Morris Parker, owner of True Concierge, a company build to provide the best in luxury services, from chauffeured vehicles to aircraft charters to executive security;
Sheila Guerrero, owner of C.I.D.Y. Makeup, who provides top-quality makeup worldwide and has recently been the featured makeup artist for the Broadway production "Wicked."
You can catch these and future episodes on GoDaddy's "Made in America" series on YouTube.
You can see the series for yourself, featuring Communities Unlimited and Arkansas entrepreneurs Vernon James, Sequoia Ferguson and Consuelo Rosales, by visiting the YouTube links here: