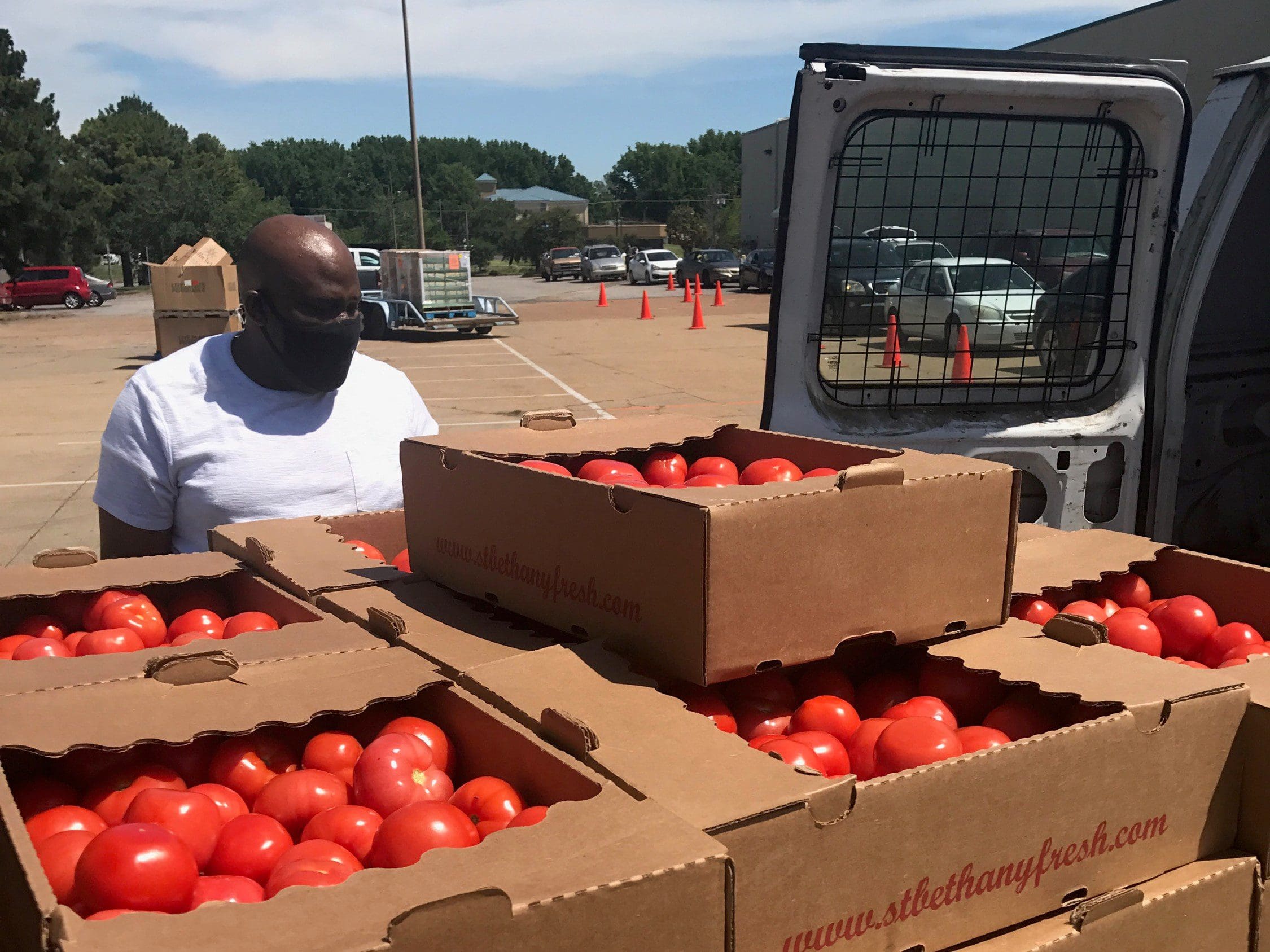 Supporting Farmers and Families during COVID-19 Crisis
COVID-19 has had a devastating impact on many small-scale growers in the Mid-South Delta Region. It has intensified the hunger crisis in the persistent poverty communities of the Arkansas and Mississippi Delta. Through a grant from the Mary Reynolds Babcock Foundation, Communities Unlimited is purchasing locally grown fresh produce from small-scale growers in the Mid-South Delta Region.  The fruits and vegetables are being distributed to food banks and other non-profits serving in-need communities in the Delta.
Communities Unlimited's has built a relationship with Heartland Hands, Inc. Food Pantry, strategically located in Southaven, Mississippi. Heartland Hands functions as a food pantry but also as a hub to 23 community food pantries throughout 12 persistent poverty counties located in the Mississippi Delta.
Heartland Hands is led by Pastor Mike Higgins and a team of 50 volunteers. They have been operating for 14 years and serve 20,000 people a month. Pastor Mike says, "I can handle anything, anywhere, anytime because of the network we've built in 14 years." The reason the network works so well, said Pastor Mike, is that they are completers, not competitors working to feed everyone in need in the communities they serve. The pantry receives non-perishable and frozen food, but rarely do they receive fresh produce that they can distribute to their network of pantries. Pastor Mike commented that it "has been a Godsend in the area that is our greatest need."
The first delivery of produce occurred on Tuesday, June 2nd, from 4 farms.
St. Bethany Fresh of Pontotoc, MS (Pontotoc, MS) – Tomatoes
Debra Lockard of Lockard Produce (Glimp, TN) – New potatoes
Matthew Robinson of The Produce Tribe (Stanton, TN) – Mixed leafy greens/Swiss chard
Ray Tyler of Rose Creek Farms (Stanton, TN) – Mixed leafy greens/Radishes
The deliveries continued throughout the summer. By Labor Day (Sept. 7), Heartland Hands and its 16 partner ministries had received more than 80,000 pounds of fresh produce.
"Thanks to you and your program, we, for the first time in our history, have access to an abundance of local farm fresh produce that has literally affected thousands of hungry people all across the state of Mississippi," Pastor Mike said.