Moving an existing business and starting a new business venture can be difficult tasks on their own. Doing both at the same time can be even more difficult. Doing both during a worldwide pandemic can present a myriad of challenges.  
One Memphis business owner found a way to rise to those challenges with assistance from Communities Unlimited.  
Elise Paulette Sanford opened the Airport City Executive Center & Catering in the heart of Memphis. The business focused mainly on providing delicious, healthy foods for special events and catering.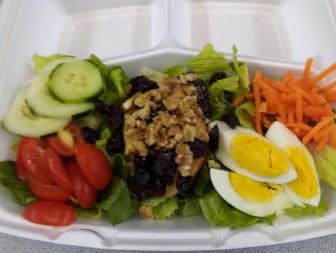 She started the business in a building with another tenant, but over time, the location and shared space didn't meet her business' needs. Paulette decided to move her business to a new location. 
Unfortunately, it was right about that time the COVID-19 epidemic took hold in the United States. Businesses were forced to close their doors and plans were put on hold or left up in the air.  
Still, Paulette needed to complete her move, but she was going to need assistance in getting the move done in such a turbulent time.  
Paulette had previously worked with Communities Unlimited when she owned a former business and felt she needed the one-on-one assistance that they provided, so she turned to them once again.   
Paulette started by placing a phone call to Cynthia Terry, Director of Entrepreneurship for Communities Unlimited. She looked to Cynthia for guidance in the move and in adapting to the demands created by the COVID-19 crisis. Paulette planned to introduce a new business venture — creating box lunches to sell to nearby warehouse workers and those at other businesses that remained open. She planned to call the new product "Paulette's Meals to Go."  
Cynthia set up a meeting for her and Paulette to meet with Communities Unlimited's lending director, Deborah Temple, and the three decided that prior to applying for a loan, Communities Unlimited would help her think through her business model and develop financial projections to confirm the feasibility of her idea. One of Communities Unlimited's management consultants, Marnell Love, worked one-on-one with Paulette to do just that.  
Shortly thereafter, Paulette began working with Lending Associate Kevin Tillman on a Pivot Loan for her new business venture. The Pivot Loan is one of the new Recovery Loan products offered by Communities Unlimited in response to the COVID-19 crisis. The Pivot Loan provides small businesses with funds to introduce new products or services in response to the pandemic. The Reboot Loan provides funds to small businesses looking to reopen or stay open during the crisis. 
Kevin visited her business in Memphis before the COVID-19 crisis hit. Kevin saw Paulette's idea of pre-made, deliverable meals as an ideal product in response to the pandemic.  
Paulette was able to relocate her business to a property along Commercial Parkway, one of the main hubs in Memphis. The new location provided an option for future purchase, as well as additional space she could sublease to others needing small offices downtown.  
Paulette was able to get her new business venture going and continue her previous services in her new location thanks to the Pivot Loan. As the new venture took off, Elise saw yet another opportunity — offering her prepared meals for curbside service as well as delivery.  
Thanks to Communities Unlimited, Paulette is serving healthy meals to clients and customers throughout the Memphis area.