Kenesha Lewis's life motto, "Life is what you make it, speak life into your life and Make It Happen," is a true representation of her everyday life. Kenesha, along with her husband Jason, have taken this motto and ran with it.
In late 2018, Kenesha had what she calls a "revelation" about a new business venture. One night at church, Kenesha recalls saying, "We need to do a fruit bouquet," Kenesha, who has always had a love of healthy fruit, decided that she would take her passion for fruit and make it into a successful business. She already had the motto and the love of fruit. Now all she needed was to start the business. In early 2019, Kay's Kute Fruit began to take shape.
She started her business from home by making fruit smoothies, baskets, and gifts and selling them online. She delivered the creations before and after work and during her lunch break at her regular job. She and Jason would offer samples to people to get their responses, and the business continued to grow to part-time, up to 15 hours a week, in addition to their full-time jobs.
Once they thought that this business could grow into their full-time jobs, they began making plans and setting goals for sales and profits. Once they reached that goal, Kenesha quit her full-time job and continued to build her business. The business grew very rapidly, so Kenesha decided to open a physical location in downtown Greenville. However, she would need assistance in the lease or purchase of the building to make that happen.
After a friend tagged Kenesha and Kevin in a Facebook post with Higher Purpose co. in Clarksville, MS., the couple engaged in a six-month business fellowship program. This program's mission is to help build community wealth with black residents in Mississippi through financial, cultural, and political power. With the help of Higher Purpose Co., they began searching for a location for their business. After looking at many properties, they found one they could purchase for between $800-$900 a month, but it also came with substantial and costly improvements. With the help and advice of a friend, they contacted the owner and moved forward to purchase the space. With a purchase price of $30,000 and renovation cost of $4,000, the couple once again went to Higher Purpose for advice.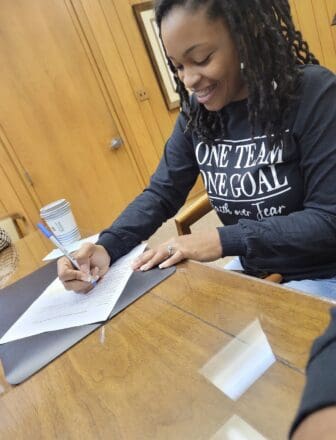 Higher Purpose introduced Kanesha and Jason to Communities Unlimited. Deborah Temple, Director of Research and Strategy at Communities Unlimited, discussed loan options with Kenesha and Jason. They applied for a small business loan from Communities Unlimited to purchase the building in September 2020. They requested a loan of $40,000 to cover the building purchase price of $30,000, plus $10,0000 to get the building renovated and the business open. Deborah and her team assisted with the loan and provided business management and QuickBooks training to ensure that the finances would be well maintained.
Kenesha stated that their experience with Communities Unlimited has been good. "They've connected us with good people. We've enjoyed our time with Communities Unlimited".
Kay's Kute Fruits opened on April 19, 2021. The location provides a variety of fresh fruit products and services, including all-natural beverages, fruit bowls and salads, fruit arrangements and smoothies. They plan to cater events and provide fruit options for local schools. They also have other big plans for the business, and Kenesha hopes to expand the business into other areas and states in the future.
Kenesha worked hard and has fulfilled her life motto. Her business motto is "Fruit is life; you are what you eat." Fruit is her life, and she wants to provide her customers with healthy food options. She and Jason now want to offer tips for other up-and-coming entrepreneurs, including have confidence in your dreams and believe in yourself. "Surround yourself with people who are going to take you to the next level, set realistic goals and hold yourself accountable for those goals, and if you need the money, holler at Communities Unlimited," Jason said.