Makethia Smith loves the expression, "You've got to crawl before you walk". She lives those words every day in her role as the owner of Moma Keta's Childcare, located in a low-income part of Pine Bluff, Arkansas. Makethia has always had hopes of updating the center with new floors and paint.  However, something always comes up, this time, it was Covid-19. The daily struggle(s) to keep the doors open in any business is tough, but to be able to do it in the middle of a pandemic is very challenging.
During the uncertain time of Covid-19, where many businesses were starting to close their doors with no hope of what they were going to do next, Makethia became determined to keep Moma Keta's doors open during the many months of the pandemic. Makethia decided that the struggling parents that depended on her for childcare and the four employees that depended on her for a paycheck were more important, so she made the selfless decision to not take a salary, so that she would be able to pay her employees and also keep the doors open for her customers. This also meant that the much needed improvements to the facility should be pushed aside in order for her business to remain open.
About the time that Makethia decided to push forward, Communities Unlimited started reaching out to the Arkansas Childhood Association to help daycare owners in Arkansas with information about the Small Business Administration (SBA) and Payment Protection Program (PPP) loans and how they could help. However, when Makethia got back in touch with Communities Unlimited about the PPP loan program, she learned that she did not qualify under the SBA guidelines, because her 2019 tax return did not show a profit. Unfortunately, Communities Unlimited had to tell Makethia the bad news and apologized for not being able to help.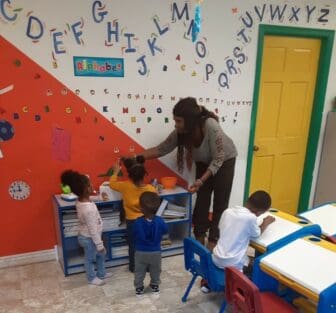 However, the following week, the SBA changed their guidelines, which would now allow sole proprietors who showed no net profit and only a positive gross income to qualify for the PPP loan. Communities Unlimited still had Makethia's phone number from the previous inquiry and reached out to her. After Makethia sent in her tax return, Communities Unlimited resubmitted her application and this time, she qualified.
When everything was finalized, Makethia received $7,040 in a forgivable loan under the PPP program, and her application became one of the first PPP loans under the new guidelines in March. The loan closed on March 15, 20021 and Makethia was able to use the money to paint and provide new flooring for the daycare. This was the first time the building received any modifications in the eight years that she had been there.
Makethia was so excited when she heard the good news. "Now we can get the new floor for the kids.", she said. The new floors are now in place and the building has been painted, she is happy to have things back to normal for the children. She stated that the kids love the new center and she is up to a seven-person staff, including herself.
Makethia is so happy that she was able to work with Communities Unlimited. She says that she will always be grateful to CU for blessing her with an updated day care. She can continue doing what she loves—taking care of the children and watching them grow, crawl, and walk.