Zapata County Texas
Communities Unlimited (CU), South Texas Coordinator Raul Gonzalez and Environmental Management Specialist Cesario Vela and Environmental Services Area Director, Harold Hunter have worked with Zapata County Texas, Waterworks for several years and the South Texas team has a good working relationship with Zapata County. CU is well known for being an assistance provider to Texas, and working with U.S. Congressman Henry Cuellar, with Raul Gonzalez being the main contact for funding issues and Financial Management and Technical Assistance. CU's Texas Team has worked closely with Congressman Cuellar, to create healthy families, businesses and communities in South Texas. Raul, Cesario and Harold were recently invited by Congressman Cuellar and Undersecretary Xochitl Torres Small to attend a  Congressional Site Visit on Saturday and Sunday, November 6th and 7th, 2021, where they attended round table discussions to talk about rural water infrastructure. The first round table discussion was held at Siesta Shores Water Control and Improvement District (WCID) where they had an opportunity to hear about the Rural Development Water and Environmental Programs provided by United States Department of Agriculture (USDA). Attendees were able to share ideas and concerns about the program and any challenges or opportunities associated with Rural Development Water and Environmental Programs. They discussed the Infrastructure Investment Bill and how It will remove dangerous service pipes that pollute our water supply. Through It, water distribution services will be able to be improved.
After the meeting at Siesta Shores, they then traveled from Siesta Shores WCID office to the City of La Grulla's, City Hall and attended another round table discussion where Congressman Cuellar and USDA Undersecretary Xochitl Small began the discussions and interview. The meeting was also attended by USDA staff, including Michael Canales, Community Program Director, Roel Gomez, Area Director and Daniel Torres, Acting State Director. After some discussions, Mr. Gomez explained CU's technical assistance positive impact on their communities. CU TAPs discussed our CLF funding program that enabled the community to complete the engineering plans that helped advance the USDA funded project to bid stage. CU also advised the council members that we have a board/council member training pending. Congressman Cuellar discussed broadband needs and Harold Hunter commented that CU also has a program that promotes broadband funding and technical assistance.
Raul Gonzalez also attended the Colonias Roundtable meeting with Congressman Cuellar. The meeting was attended by various agencies and was a good opportunity to network and listen to discussions on housing funding needs and maintaining sufficient community sustainability that would attract college graduates back home instead of moving to bigger cities with more job opportunities.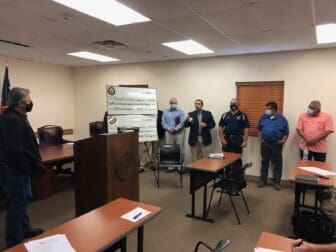 Harold sent an email to USDA's Senior Legislative Analyst Congressional Relations, Valerie McMakin after the meetings and explained to her that during their visits in Zapata, Siesta Shores and La Grulla, Undersecretary Xochitl Torres Small, asked for information on the Colonia survey that Communities Unlimited conducted in 2014-15. Raul attached prioritized individual Colonia research, plus an estimated cost of new construction, repair and replacement of the infrastructure. Harold explained that costs have skyrocketed for the construction and there are many residents in these communities without water and/or sewer. Harold explained that it would take another survey to determine accurate levels.
Harold asked Ms. McMakin to thank Undersecretary Xochitl Torres Small for making Texas her first visit and Congressman Cuellar and his staff for a fabulous tour.