When Amanda Khanga and her husband Melvin decided to attend an event with family and friends to honor Veteran's Day, she had no idea just how much being there would change her life.
Amanda said that she has always believed that things happen for a reason and when we are put into situations, there is usually always a purpose. On November 11, 2020, Amanda discovered her purpose. As she walked around the event, looking at all the flags and listening to all the speeches, she noticed something and someone that caught her eye. She watched as a gentleman began to set up a display booth for Card My Yard, Northwest Arkansas. Amanda was familiar with the idea, where individual's hire a company that puts sign displays in people's yards, and in front of businesses for a day to celebrate birthdays, anniversaries, baby showers, weddings, etc. She was intrigued and decided to talk to the man that was setting things up. The man explained that he was setting it up for his wife Ashley, who owns the business. They visited for a bit and the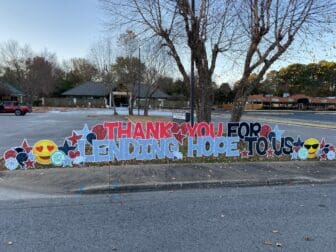 man ended up telling Amanda that his wife was trying to sell off part of her territory.
The pandemic has really boosted the popularity of the business and the orders have increased and his wife was extremely busy trying to run the business. Her territory consisted of a large portion of Northwest Arkansas, from Fayetteville to Bella Vista, all the way to the Oklahoma state line and since business was doing so well, she wanted to expand it, but did not have the time to explore other territories, and since she did not have the time to do so, on her own, they were trying to sell off part of her territory.
Amanda's mind started racing. Firecrackers went off inside her head.
She called Melvin over to listen to the story. Her belief that things happen for a reason definitely came to mind and she decided that she was going to tell her sister about it. Amanda explained that her sister was always getting involved in something new. As they left the display and enjoyed the rest of the day with family, Amanda could not get Card My Yard out of her head, but this time her mind was going in a different direction. Instead of giving her sister another project, she thought, this may be something for her and Melvin to explore.
Both Amanda and Melvin had good jobs, but neither of them really had money saved for the future. Amanda is known for getting notions in her head and running them by Melvin and he always supports her ideas from the side, but this was different. This time Melvin was equally on-board. They decided to go to lunch and talk about the idea of becoming business owners.  Amanda and Melvin prayed about this opportunity and a week later they shared the news with family. Amanda got in touch with Card My Yard's owner, Ashley and pieces started falling into place.
The Khanga's started the loan process by going to their local bank. Amanda was optimistic with the financing part. They planned to use their house as collateral, however they ran into a snag. The couple had not owned their home long enough and there was not enough equity in it, just yet. They needed more money than the bank would give them. However, someone that worked at the bank had assisted customers in the past, who had worked with Communities Unlimited. The bank recommended that Amanda and Melvin reach out to CU. The Khanga's called Communities Unlimited and started visiting with Loan Officer, Deborah Williams. After starting the paperwork with CU, the Khanga's started training with Card My Yard. They were hopeful that Ashley would choose them to sell to. Ashley recommended adding more zip codes to the business, including Prairie Grove and Farmington. Ashley explained that a territory can be flexed in, if it is not already owned.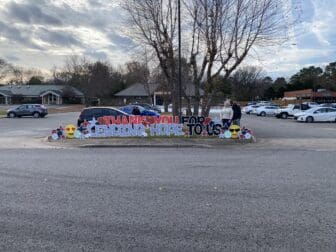 In December, just a few weeks after attending the Veteran's Day event, Amanda and Melvin were deep in the process with Communities Unlimited. They also interviewed with Card My Yard and signed the franchise disclosure paperwork and at the end of January 2021, the Card My Yard franchise was activated.
Amanda shared that her and Melvin were so grateful that Communities Unlimited was there and she is glad that they did not go with a traditional bank. Amanda said that working with CU was easy and the lending team was great. They were all caps, bright colors, friendly, and offered reassurance and plenty of guidance, along the way, Amanda said. "They asked questions that made me think, they gave us a realistic view point and guided us with making a plan during the whole process".
Amanda said that the big picture that she had in mind, did not go exactly like she envisioned, but she was happy and the process went smoothly. There were a lot of steps to tackle including creating the LLC, getting insurance, gathering all of the paperwork, making phone calls, all while working full time and being a wife to Melvin. Amanda and Melvin jumped out of the gate in mid-March. Since they were able to work with Ashley, they did not need as much training with the franchise. In addition, with the loan from CU, the Khanga's also used some of their saved stimulus checks to move the process along. In the end, they were able to activate and sign into the franchise with Farmington and Prairie Grove.
They have already made so many clients happy.
Amanda is so excited about what the future holds for her small business. Her belief that everything happens for a reason has already come full circle. Amanda shared that one of her clients has become a repeat customer and that some clients are starting to refer her to their friends, family and colleagues. Amanda sees this as God's way of telling her that what she is doing is not only working towards her and Melvin's future, she's also making it easier for other people to put smiles on their loved ones faces.
Amanda enjoys interacting with the client's and taking time to focus on all the details of their stories. The Khanga's are so grateful for the loan that they received from Communities Unlimited. In this short amount of time, they have  changed so many lives, including their own.