Egan, Louisiana is a small town located about halfway between Lafayette and Lake Charles, Louisiana, along Interstate 10. The town is located near the Gulf of Mexico and is surrounded by farmland and pine forests.  
The Egan Water Corporation serves 4,888 customers in Acadia Parish and has been in operation for just over 20 years. In late 2019, the water system received an administrative order from the Louisiana Department of Health (LDH) regarding compliance issues for Total Trihalomethane (THM)/Haloacetic Acids (HAA5), which are disinfection by-products in drinking water. The system needed to install equipment for a new treatment technique that would alleviate the issue.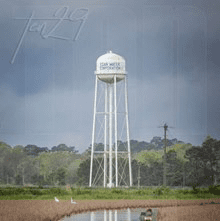 Egan called upon Communities Unlimited (CU) for assistance 
 Richard King, Community Environmental Management Advisor, met with the board at Egan and discussed the options available, including taking out a loan. Richard guided them through the loan process, but the application's completion was held until a rate increase could be approved by the United States Department of Agriculture (USDA)-Rural Development. The system planned to pay back the loan using the additional revenue from the rate increase.  
By late 2020, the system received an answer, but not the one they were hoping to get. Their request for a rate increase was not approved. Instead, it was suggested that the system use its reserve funds to pay for the project.  
Communities Unlimited was not finished assisting Egan 
 In February, the system reached out to Communities Unlimited once again. They wanted to reapply for a loan through Communities Unlimited to help pay for a new water tank. Communities Unlimited retrieved the previous loan application and began working with the system to update it and reapply for the loan.  
Communities Unlimited continued to assist Egan with its improvement projects. In late 2021, the system reached out another time, this time to request funds to repay their emergency reserve account. They needed the new loan so that they would have reserve funds ready and would not have to wait for funding or grants from outside sources in case of future emergencies. 
Egan drew down from their reserve account to make repairs to a brand-new storage tank. After constructing the new storage tank, Egan Water Corporation received concurrence from USDA for their proposed rate increase.  
In December of 2021, Egan Water Corporation received a loan that would assist the system in replenishing its emergency cash reserve. Communities Unlimited has been there to assist Egan through the process.