Communities Unlimited Healthy Foods Coordinator Brenda Williams joined forces with Cargill's Black Farmers Initiative to purchase trailers for small-scale growers in three states to increase their farm capacity.
Cargill's goal is to build a more equitable economy. They can accomplish this by working to increase the participation, profitability, and productivity of Black farmers, ranchers, and growers, by putting producers at the center of solutions. Cargill worked with several groups across the United States. These groups formed a partnership and participated together to increase access to markets, capital, information, and technology for Black farmers.
According to www.cargill.com, in the United States, Black Farmers make up less than 2% of the country's 3.4 million farmers, and there has been a 90% decrease in Black farm ownership.
To respond, and in keeping with Cargill's long-standing commitment to farmers in the US and worldwide, Cargill launched the Black Farmer Equity Initiative. The focus is on collaborating with producers to operationalize equity across the food and agriculture system. This program helps demonstrate Cargill and their customer's commitment to helping dismantle Anti-Black racism.
Brenda worked with several small-scale farmers in several areas. Some farmers have been farming for over ten years and still do not have the necessary basics to do their job effectively. Most farmers used inadequate equipment to transport their products from their farms to their selling points. The Black Farmer's Equity Initiative was able to change that. CU identified a way to change that by utilizing a Black Farmer's Equity Initiative grant.
Burthel Thomas, a watermelon farmer from Wabbaskea, Arkansas, is one of the recipients who received the grant. Before receiving his new trailer a month ago, Mr. Thomas had to ensure that he covered up all of his products before hauling them to a new location. His previous trailer had no cover, and he could not keep his product clean. His system was also inadequate and could not effectively haul enough products from the farm to the market.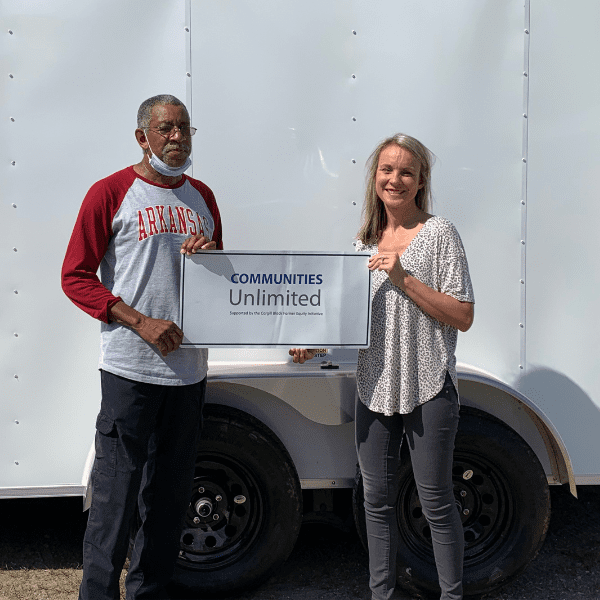 Before working with Brenda on the initiative, Mr. Thomas had to set aside extra time to prepare his watermelons for the journey to Crossett, AR. In most cases, he arrived at his destination with damages to at least half his load. Thomas explained that weather has always been a big issue, so now that he has a trailer with a roof, he can transport more safely and twice as many watermelons as before.
He said that watermelons have not always been a part of his life. Still, after retiring from the United States Department of Agriculture (USDA), National Resource Conservation Service, he wanted something to do with his time, as well as something he could leave to his family. "The planets lined up with the solar system, and I stumbled into watermelons," Mr. Thomas said, laughing. He started with 5 acres of watermelons and currently has 300 acres.
During his career, he gained the conservation skills that assisted him in making his watermelon operation environmentally friendly. Mr. Thomas said that he has a rhythm to his method, which includes lying down the plastic mulch in the spring to get a proper oil consistency, lying down plastic in the winter so that the moisture stays until summer, and finally buying seeds that will plant through the plastic. Mr. Thomas said, "Every sustainable practice I could put on my farm, I have signed up for it."
Mr. Thomas explained, "I'm a one-man operation; I have to make sure that it is done right and there is a perfection to raising melon." In addition to the watermelons, Mr. Thomas added 30 beehives to increase the pollination of the watermelons. With the unpredictable weather, he wanted to ensure that the watermelons had enough fruit, were healthy, and stayed in good shape; he then used the honey from the bees to pass around to his friends and family. "I have little jars, and I pass it out," he said.
Mr. Thomas is happy to participate in the Black Farmer Equity Initiative. The trailer program has pushed him further into the next step of his business. It has made good use of his time, and he can transport his product to its destination more safely.
He is thankful that this has allowed him the opportunity to do what he loves. He looks forward to sharing his watermelons with many more people.
Liz Bell-Simpson is the Director of WSBZ Farms in Little Rock, AR. The farm focuses on making the maximum positive effort for their community. Its mission is to outreach to socially disadvantaged farmers, ranchers, veterans, and children in the community. The non-profit organization teaches children to learn conservation, and environmental health while studying in their own garden bed(s).
They raise a variety of produce, including eggplant, cucumbers, squash, okra, cabbage, potatoes, etc., and work with local food pantries and libraries to provide healthy products.
Just like Burthel Thomas, Liz and her crew were hauling these products to rural communities outside of the Little Rock area, on a trailer that did not have a cover.
Some of the products were arriving at the destinations damaged and not in the best conditions.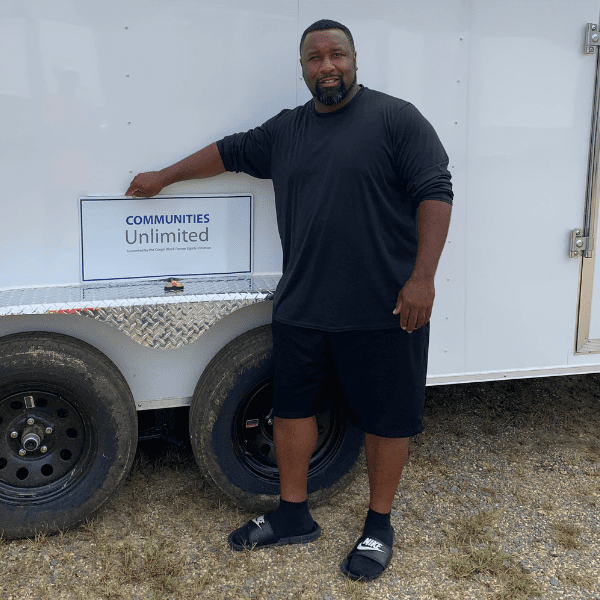 Liz started talking to her crew about needing a new trailer, right around the time that Brenda Williams got in touch with her about the Cargill Black Farmer's initiative. Liz thought this was perfect timing.
WSBZ received the trailer around three months ago, it has assisted Liz, and her organization to expand and get visibility to the community and expand to other states, including Texas. She has recently collaborated with a rice producer and added rice to her list of healthy foods.
Liz shared that the trailer has been essential for them. "It has been very helpful, we can load and unload quickly and it's been much help".