**Update 8/2/22**
Watch Vickie's progress in a new video


Vickie Woodard, the CEO of Melosong Properties, Inc., a real estate company in England, Arkansas is too familiar with the struggles that her hometown of England faces. The poverty rate is 27.2%. There is a short supply of rental homes that are affordable to low-income families and most incomes are at the poverty guideline.
Many households are spending more than half of their income on housing. This means there is not much left for other necessities, Vickie said. Women continue to face hurdles that prevent them from getting business loans and reaching their goals and dreams. This did not sit well with Vickie. She decided that she wanted to find a way to assist with the need that her hometown was facing.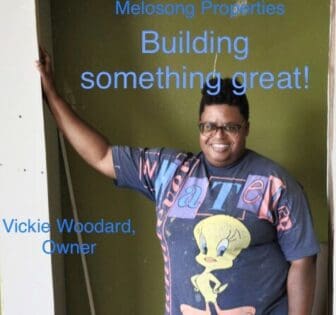 Vickie came up with Melosong Properties
Her real estate company focuses on the re-development and rehabilitation of homes to provide affordable housing solutions for low and moderate-income communities. These communities have been overlooked due to the lack of investments due to residential and economic decline.
After becoming a business owner, Vickie worked hard for several years to get her small business off the ground. However, she needed funding to keep up with the many dreams that she had. She went from bank to bank but was always told the same answer. The banks could not give her a loan because of the zip codes where most of her redevelopments were located.
Vickie's determination paid off
Vickie continued to press on and her determination kept her focused on her goals.  She continued to apply for any loan or grant that came across her path. Vickie said, "I had my ducks in a row, I had to find a way to make myself more lendable". Vickie got her bearings together and started researching and applying even more. In November of 2020, Vickie competed in a Pitch Competition. She presented her business concept to a panel and hoped to win money that she could put towards her business. During the preparation process, she was introduced to Akira Morishita, Communities Unlimited Entrepreneurship Management Consultant.
Akira and Vickie worked together on Vickie's financial numbers, business model, and marketing goals. Together they came up with a plan. Akira introduced Vickie to CU's Director of Lending, Deborah Temple, and Debra Williams, Lending Loan Officer. The lending team assisted Vickie with her loan.
In May of 2021, Vickie closed on her loan and was able to get over the hump that was preventing her to move forward. Vickie stated, "The light at the end of the tunnel was so bright, that it was about to blind me". She knew there was a happy ending, but did not know exactly how it would go. Vickie explained.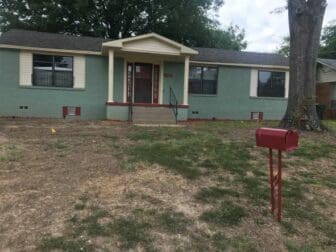 She continues to add to her goals every day and her vision keeps going
Aside from renovating the properties in England, she also opened a separate entity titled, Melosong Furnished Village, a Home Away from Home in Little Rock, AR for essential traveling nurses. With the rise of COVID-19, Vickie wanted an affordable bed and breakfast for nurses coming to Little Rock to have an affordable and nice place to stay.
 Vickie also shared her newest adventure, "I'm working with the I Fund Delta program from Winrock International in a 12-week program for Delta Region Entrepreneurs. They will pay attorney's fees for trademarks and LLC establishment & some website enhancements for me".
When asked where she came up with the name Melosong, Vickie explained that it all goes back to her other favorite hobby, singing. Aside from running a business, she's also a songwriter, minister of music, and has a record label named Melosong, which means Visionary and Risk Taker, according to nameslook.com.
Keeping the motto
 Vickie stands by Melosong's motto, "Building the Community, One Home at a Time", and believes that her relentlessness, determination, and faith in God have guided her in the direction to make a change for the communities that deserve a chance. She is happy that her vision and risk-taking journey led her to CU.