Christina McCarter, from Memphis Tennessee, believes that bringing people together in sustainable ways, while packing a flavorful punch is a great way to live. In fact, it is the motto behind her growing charcuterie delivery business, Feast & Graze LLC. Christina and a partner founded the business in the summer of 2019.
An Idea Comes to Light
The idea was born after Christina hosted a cheeseboard, craft, and wine festival. The reception became so popular and revealed a demand for food entertainment and charcuterie arrangements. Christina used this opportunity to think through her hobby. She decided that she could make a service for clients to celebrate their special occasions.
In the next few years, as the business grew, so did COVID-19. The business took a hit, but Christina stayed strong. In July of 2021, Christina bought out her partner. The buyout was funded through the business and depleted the company's working capital. As a newly sole owner, Christina pushed forward and began to improve the operation.
Christina took the opportunity from the Open on Main Grant Program by the Downtown Memphis Commission to receive space for her business, rent-free for a year. Christina jumped on the opportunity to have a bigger space for her business. However, the bigger space meant that she would need additional equipment for the larger, more visible location.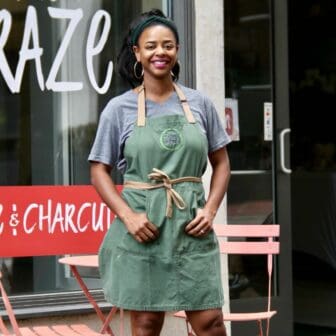 Christina Reaches Out to Communities Unlimited
Christina had previously worked with Communities Unlimited on a past loan, so she immediately reached out to Communities Unlimited's Lending Team and started working with Economic Development Loan Officer, Chris Tillman.
In early 2022, CU assisted Christina with her loan. She continues to grow Feast & Graze. In most cases, she receives the orders via her website or by phone and she plans with the clients to either pick up the orders or she delivers to the client's desired location. She has many plans for her business, including offering retail inventory, soon.
Christina believes that "good food brings people together and good company keeps them there." Feast & Graze offers a variety of creative pairings from meats to cheese, to sweet fruit and everything in between.
For more information about Feast & Graze, check out https://www.feastandgraze.com or visit Facebook.