Mulberry, Arkansas, is in the Arkansas River Valley. The city settled around the time of the Louisiana Purchase. The town got its name from early settlers because of the large mulberry trees lining the riverbanks. According to Mulberry's History – The City of Mulberry, Arkansas, during the Civil War, the city suffered heavily, despite only a few battles nearby.  Many families lost their possessions, crops were destroyed and citizens were harassed, during this time. In 1876, things started to improve when the Little Rock and Fort Smith Railroad began. Thomas A. Carter bought the land that is now on Main Street. The town continued to have issues due to the Great Depression, flooding, and the stock market crash of 1929. However, Mulberry pulled through because of The Works Progress Administration (WPA), and the city began to prosper again after World War II.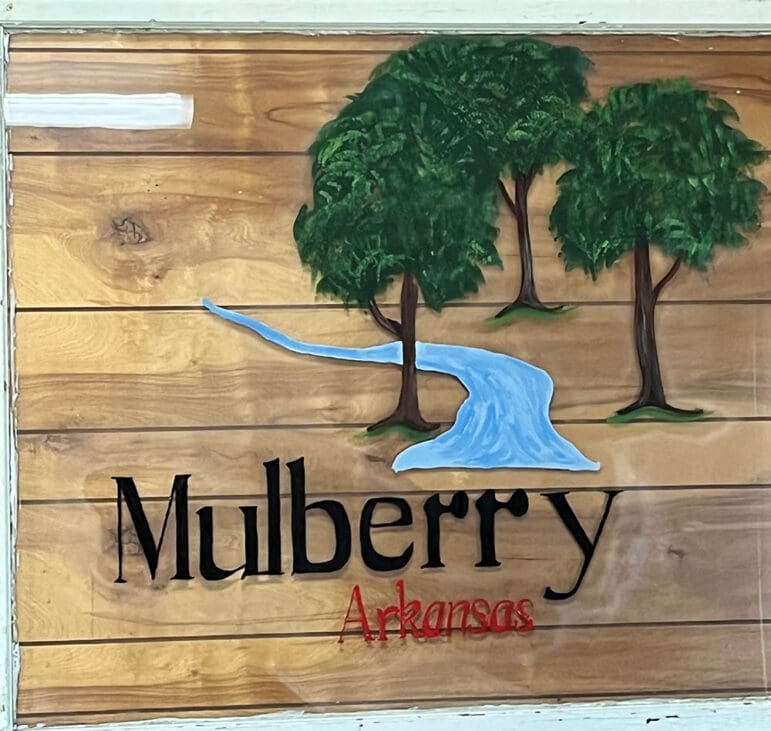 The residents of Mulberry enjoy outdoor recreation, and Mulberry has several facilities that provide year-round water sports, fishing, and hunting. The Mulberry River attracts people from all over for canoeing, kayaking, swimming, and tubing. Farming has always been a big business in Mulberry. Locals raise livestock and grow hay, soybeans, and other food crops.
In 2019, the city of Mulberry was selected to participate in the Community Sustainability Program with Communities Unlimited (CU). The funding for this three-year initiative comes from the United States Department of Agriculture's (USDA) Rural Community Development Initiative (RCDI) Grant. CU was chosen to serve as the intermediary organization responsible for providing technical assistance to Mulberry and other communities. The overarching goals of the initiative align with the mission of CU, "To move rural and under-resourced communities in areas of persistent poverty to sustainable prosperity."
On October 7, 2019, the city of Mulberry hosted CU for a public announcement about the selection for the Community Sustainability Program. Around 50 people attended the first meeting. Some returned the following month for a Mulberry Community Leadership Team (CLT) workshop. This was the first of a series of monthly workshops to build a leadership team that would serve the community for the next three years.
During those three years, CU's Senior Community Facilitator, Michelle Viney, led the team in monthly workshops to better their community's needs and roles as local leaders.
As time passed, the Mulberry CLT and Michelle worked to identify assets in six of the eight capital areas. These included Built, Natural, Social, Financial, Political, and Cultural. They deep-dived into each area and discussed the community's needs. They talked about the infrastructure of existing buildings, water and sewer systems, broadband, and road issues.
Through the Community Sustainability Program, Michelle guided the community leaders in the creation and process of identifying assets and opportunities for local-wealth growth in their town. She worked with small business owners to assist them with business development and management. She also assisted them with organizing and staying on top of community events and ways to attract visitors to their small town. She assisted them with their communication, livability, and economic development needs. To do this, she worked with them in several areas, including their website, social media, and better ways to utilize the library. They also replaced Mian Street's outdated digital sign, with a new sign and collected surveys to figure out Mulberry's points of satisfaction and dissatisfaction, by keeping business impacts and economic development in mind. 
Early in the process, the CLT team found opportunities around the downtown area, which included walkable areas of Main Street. In June of 2021, a planning engineer from Crafton Tull & Associates, the Arkansas Economic Development Commission, Arkansas Highway, and Transportation Department, and the Center for Community and Economic Development conducted a walk-audit. A walk-audit also called a walkshop, is a site meeting held to walk (or bike) an area of town with a diverse group of community members to find conditions that either support or create barriers in the built environment regarding the livability and safety of the users. During this audit, they identified the need for accessible wheelchair routes, better bike lanes, curb extensions, and more along Mulberry's Main Street.   
 In early September 2022, Mulberry's Mayor, Gary D. Baxter reached out to Michelle to discuss some last-minute mapping aid before the project and grant period ended. CU's Community Sustainability Team joined forces with the GIS (Geographic Information System) Team and met with the mayor and the system water staff on September 19th. Trent Neatherly, GIS Technician, led a team through field data collection training in Mulberry. Don Becker, GIS Technician, and some CU staff members who were skilled in mapping completed the fieldwork, post-processing, and printed GIS maps for Mulberry, just in time for the project's deadline. It was an excellent opportunity to have the Community Sustainability Team and the GIS Team in the same community together, as CU's time in Mulberry wrapped up. The project that would normally take several months to complete was finished in two workdays because of the dedication of everyone involved. "Mulberry received a collection of newly printed paper maps and training on their GIS map interface," Trent said. 
 During the three-year program, Michelle kept track of the community's needs and guided them through ways to make the Mulberry community a safe and happy place to call home.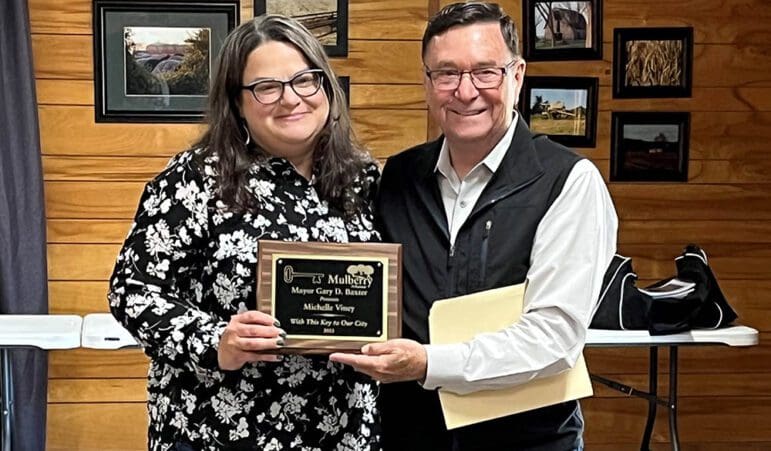 They were all happy about what Communities Unlimited has done for their city. Mulberry's Mayor, Gary D. Baxter, stated, "Michelle has been a lifesaver to our city, and we will miss having her." He is glad that the town of Mulberry was selected for the Community Sustainability Program.
Michelle explained that although she would not be there in person to meet with them every month, CU would still be here for Mulberry and their relationship will continue.
The three-year initiative ended on September 28, 2022, during the last town hall meeting with Michelle, Mayor Baxter, and a few community leaders. Mayor Baxter presented Michelle with a plaque that granted her a "Key to the City of Mulberry" for the challenging work and dedication that she has given to them over the last three years.