Our Location
320 North Street
Nacogdoches, TX
75961
479-443-2700 ext. 258
Located in Nacogdoches, Texas Communities Unlimited's new office is open!  Communities Unlimited is a 501(c)3 nonprofit and small business lender.  We look forward to bringing the same great services like small business loans to Nacogdoches and the East Texas region that we've been providing to our 7 state service area since we were founded in 1975.
Apply For A Loan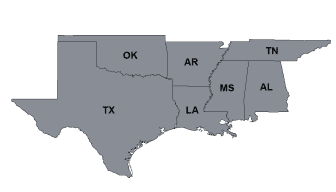 Communities Unlimited serves seven states in the southern United States, an area with many rural communities, a high minority population, high poverty and food insecurity. We believe that where you live, what you look like or how much money you have should not determine access to opportunities.
Communities Unlimited, Inc. is a 501(c)3 nonprofit organizations founded in 1975 that works side-by-side businesses, communities and families in Alabama, Arkansas, Louisiana, Mississippi, Oklahoma, Tennessee and Texas to create fair access to resources to sustain healthy businesses, healthy communities and healthy families. CU takes a community-based, regional approach to solving the challenges that threaten a communities' survival. Our diverse technical know-how and geographic expertise makes CU uniquely qualified to partner with Southern communities like the ones in East Texas.
This is where we live. This is where we work. These are our communities. We work side by side with individuals, communities and organizations to make opportunities accessible to everyone, everywhere.
Communities Unlimited takes a holistic approach to it's work in 4 areas: Environmental, Community Sustainability, Entrepreneurship and Healthy Foods.  Our CDFI Lending is an integral part of all of those areas.
Communities Unlimited makes small business loans in Nacogdoches and the East Texas area to position them for profitable growth leading to new jobs and local economic development. With loans of $1000 to $100,000, we fill gaps in small business financing.
Communities Unlimited was certified as a Community Development Financial Institution (CDFI) in 2001. Communities Unlimited has over $16 million in assets and has made over $45 million in loans to small rural communities and small businesses in 24 states.
We're excited to be a part of the future of East Texas!
Communities Unlimited serves Deep East Texas with a focus on the following counties and the communities in them: Angelina, Houston, Jasper, Nacogdoches, Newton, Polk, Sabine, San Augustine, San Jacinto, Shelby, Trinity, and Tyler.  Entrepreneurs and small businesses looking for small business loans please contact us to find out what your options are.  Let's talk!
Barrion Johnson, owner of Old Tyler Road Cafe talks about his interaction with Communities Unlimited
Communities Unlimited offers financing to rural communities and tribal nations to improve and maintain their drinking water and wastewater systems.
Eligibility includes local government, nonprofit corporations, and tribal nations that,
Serve a significant number of low-income customers;
Population of < 20,000;
Have the cash flow for debt service or have permanent takeout financing; and,
Are willing to accept no-cost technical assistance if needed.
Emergency Financing
In the event of a natural disaster or catastrophic system failure, emergency loans can be processed within 1 – 3 business days.